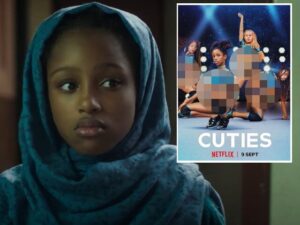 There's a monument that represents decades of systemic exploitation, adultery, homosexuality, rape, pedophilia, ritual abuse of women and children, Satanism, narcissism, witchcraft, violence, and anti-Christian values. The Hollywood sign. 
This world-famous idol is a sign of pride, celebrating sin, perversion, rebellion, glitz, glamour & godlessness. But there are no movements to tear down this monument. Maybe there should be.
Coming up, a report on the entertainment industry normalizing pornography, rape, sex, abortion, and vulgarity starring Netflix, Cardi B, HBO, and yes, Disney.
First, you may have heard Netflix is releasing a French film called Cuties, that centers around 11-year-olds on a twerking dance team, lying, and stealing. Cuties features a cast of children and an NC-17 rating due to sexual content. Did I mention we're talking about 11-year-olds?
Was this a PR stunt? Netflix must have predicted the backlash from pro-family organizations and mothers for sexualizing little girls and showing children dressed provocatively and dancing suggestively. It's offensive.
Remember when we reported on Pepsi Co. pushing the envelope at the NFL Super Bowl Halftime Sex Show in February? At least most performers were adults but it featured plenty of hip thrusting, booty shaking, tongue-wagging, crotch grabbing, and Jennifer Lopez showing young girls how to strip and pole dance.
Don't you think this degrades women and makes them sex objects? Me Too.
Because Netflix knows that not enough people file complaints, they promoted the new film, Cuties with a very sexualized movie poster featuring pre-teen girls wearing scantily-clad dance uniforms posing in sexually provocative positions. This is the same streaming service that gave us another controversial series which glorified sex, violence, and suicide; 13 Reasons Why.
Now exploiting children, Cuties is being released this week.
Next, Disney has a new series, The Owl House, where the lead character is a 14-year-old girl who not only wants to become a witch – but is a bisexual. The series introduces kids to demons, witches, and sorcery – something the Magic Kingdom has been doing for nearly a century – while inundating their young minds with secular worldviews that reflect the current culture.
The main character, Luz, decides to skip summer camp where her mother sent her, and pursue her dream of becoming a witch. The show makes light of hell and the dangers of the demonic realm. But it's Disney, so…
Over on HBO, 'Unpregnant' is a new movie that encourages secret abortions for minors. Unpregnant is about a teenage girl on a road trip to get an abortion. I wish I were joking. It's allegedly a comedy hoping to bring humor to child sacrifice and, in the words of its writer, "make people more comfortable with the subject of abortion."
Stereotypical of Hollywood, the child avoids going to her "Jesus Freak" Catholic parents for help, and she decides to commit an abortion on her own. The twist is that due to strict abortion laws in her state, a friend goes with her on a thousand-mile journey.
Writing at USA Today, Dave Pivonka and Maureen Ferguson said they were shocked when they saw the trailer for Unpregnant, adding:
Most people have had the moral decency to recognize the seriousness of the decision for the woman, if not for the unborn child; … the makers of this film want us to forget about the human tragedy at the heart of abortion. They want to mask it with laughter… so we don't see the heartbreak, tears, grief and guilt that plague so many post-abortive women, not to mention the loss of innocent life that accompanies every abortion.
I agree with them, and the pro-abortion movement doesn't want it to be a morally serious issue. Some have even compared it to going to the dentist.
But human life and human dignity matter and we shouldn't be surprised by Hollywood trying to undermine the sanctity of life. The writers offer a great reminder: pray for every teenage girl and every woman who feels she has no choice but an abortion.
And speaking of normalizing sin and calling evil good, rapper Cardi B is defending her new song about female genitalia as normal.
To give you an idea of what today's kids are listening to, Cardi B's controversial hit, "WAP," has topped the charts in the last several weeks, but I cannot even tell you the lyrics. That's how disgusting this song is. Words like vulgar, explicit, depraved, and pornographic might begin to describe it.
In a recent interview, the famous rapper said that to her, this kind of music is normal, and people need to cast off all restraint and follow their urges and desires.
"Everybody gets horny, everybody gets a little tingle down there, you know what I'm saying. Just embrace it. Don't be scared about it."
Just do it. Follow your instincts. Millions have watched her vile video in the first two weeks and, wanting to appear hip to the rap world, Joe Biden chose Cardi B as one of the few people to do a softball interview with him.
Cardi B is on the top of the world and she's deceived to think her warped worldview is normal. She and other pop stars need Jesus but they don't even know it.
For PluggedIn, Adam Holz writes:
Cardi B isn't afraid to have conversation about sex with the millions of people watching and listening to her; We need to take a page from Cardi's playbook and be similarly bold in helping our children understand that sex between a married couple is indeed a good, beautiful and pleasurable bond—as well as articulating the deep and lasting damage that can come from embracing a worldview that confuses self-exploitation with empowerment.
Like J-Lo, Gaga, Katy Perry, Miley Cyrus, and many female pop stars today, Cardi B's songs often emphasize a woman's sexuality as a primary aspect of her identity; it's a way to derive power. And that's what's being sold to young girls.
The Bible says:
Do not be deceived: God is not mocked, for whatever one sows, that will he also reap. For the one who sows to his own flesh will from the flesh reap corruption, but the one who sows to the Spirit will from the Spirit reap eternal life. (Galatians 6:7-8)
We've only covered a few examples of the garbage being produced today and many parents find out too late. The danger is these immoral attitudes and behaviors influence children who want to be like celebrities. Beware of music, media and the mind.
Video courtesy of Freedom Project Media