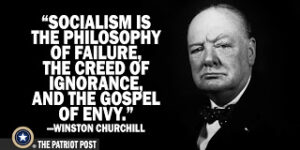 According to a new poll, seventy percent of Millennials now plan on voting for socialists and Democrats. And thirty-six percent support communism. For those keeping score at home, that's one in three youngsters – brought up in the modern, atheistic, secular-progressive education system in America.
Not surprisingly, with the help of today's media and Hollywood, these same Millennials believe President Donald Trump is a bigger threat to world peace than North Korea's Kim Jong-un and Russia's Vladimir Putin.
Most of us born prior to 1980 learned the truth about socialism before history books were completely rewritten in government schools. What's so bad about Communism and what kind of death and destruction have socialist leaders inflicted on the world?
In its fourth annual report on attitudes toward socialism, the Victims of Communism Memorial Foundation reveal some alarming trends among under-educated young people in the United States of Entertainment.
I hope you're sitting down for this next one. Only 57% of Millennials believe the Declaration of Independence better "guarantees freedom and equality" over the Communist Manifesto. And, only 62% of future world shakers believe China is a communist country.
Socialism is a centrally planned economy in which the government controls all means of production. Is this confusing at all? Is this historical amnesia or is it the corruption of the left indoctrinating a generation of young people?
Marion Smith, executive director of Victims of Communism Memorial Foundation states:
"When we don't educate our youngest generations about the historical truth of 100 million victims murdered at the hands of communist regimes over the past century, we shouldn't be surprised at their willingness to embrace Marxist ideas; We need to redouble our efforts to educate America's youth about …the dangers of socialism today."
Most of us don't understand how kids can go through junior high and high school and not come away with at least a basic understanding of economics and world history. We remember the Soviet Union and Red China, and today, a few obvious examples are Cuba and Venezuela.
Rather than the facts, too many students buy into feelings-based liberal talking points about a softer, appealing brand of socialism. They follow people like congresswoman Alexandria Ocasio-Cortez and Bernie Sanders, who wants to give them free stuff. Do they really believe capitalism is the problem? Yup.
Ocasio-Cortez has even said her generation has never known true prosperity. In America.
This growing love affair with socialism coincides with a foggy understanding of economic philosophies and is a result of biased, ideologically-driven public school curriculums. How else can you explain why even ten percent of Millennials say Trump is "responsible for more deaths and human rights abuses" than Russian leader Joseph Stalin who murdered tens of millions of people, or Nazi dictator Adolf Hitler?
The same way we can explain how 87% of high school students flunked a five-question test of basic knowledge about American history. These same students were also least likely to know who is on Mount Rushmore. Just four presidents; and only 35 percent got it right.  
Millennials generally see the world through their own emotions and experience, which prevents them from acknowledging the truth about life and world history. Combine that with the fact the progressive education system teaches them how bad America is and you can begin to understand why they think the way they do. 
People complain about the world and say they want equality, fairness, and justice. But do they really understand what they mean? Those same people are often the first to deny the God who created us, ignore the truth in the Bible, and criticize the Judeo-Christian principles that helped set the foundation for the great freedoms and moral values we have enjoyed in America. 
We might not be able to re-educate people, but we better pray for God's protection on this nation, fight the good fight, and speak the truth on these issues.
Video courtesy of Freedom Project Media