REDEFINING TRUTH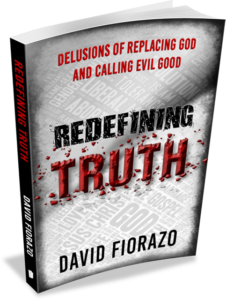 "This book will both disturb and comfort those who read it. As Fiorazo documents the multitude of assaults against truth which are gaining traction in our world, the reader will most likely teeter on the brink of despair.  But as the author reminds us of the unchangeable, ever enduring, all sufficient Word of God, which contains the truth that liberates both now and eternally, faith will be strengthened and hope embraced." –Gary E. Gilley, Pastor-teacher, Southern View Chapel, Springfield, Illinois; Director, Think on These Things Ministries
With great lucidity, Fiorazo illuminates the path by which the shadows of materialism and relativism seek to obscure truth, and then reorients the reader back to the unerring light of God's word." – Dr. Duke Pesta, Academic Director, Freedom Project Academy
*     *     *     *     *     *     *

THE COST OF OUR SILENCE
The best-selling book from David Fiorazo
"David Fiorazo has an uncompromising, hard-hitting writing style overflowing with compassion for all people, and his perspective is soundly based upon the truth of God's Word. His sense of urgency to warn the church about our silence cannot be overstated. He is one of my most articulate radio guests. I consider him one of the best 'watchmen on the wall' sounding alarms today."  Jan Markell, Olive Tree Ministries

The truth is – silence never saved anybody. Rather than retreat and hide the light of Christ, we must stand and fight the good fight of faith, speak the truth in love and bear fruit that will last. If Christians remain silent, fewer people will be saved, society will collapse, and we will continue to be part of the problem. Today's church seems more comfortable blending in with the world rather than being set apart from it, and our apathy is killing us! In the last hundred years in America, we have not only invited evil in, we often justify it. Rather than resist the sin that used to repulse us and cause us deep remorse, we have warmed up to it.
           Two minute message from Author and Speaker, David Fiorazo
*     *     *     *     *     *     *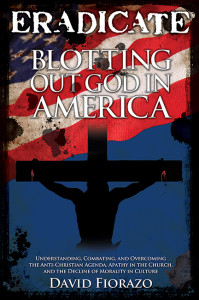 ERADICATE: BLOTTING OUT GOD IN AMERICA
"Eye-opening! A must read for every Christian."
"ERADICATE has caused me to pause, pray about my beliefs, draw closer to the Lord in the decisions I make … Very thought provoking, very necessary."
"Fascinating, Engaging, and Inspiring"
"Once I started reading this book, I couldn't put it down. I was convicted, concerned, and awakened from my own complacency on some issues in our culture."
"This book is founded on heavy research, historical fact, and the truth of God's Word."
(From Life Sentence Publishing), is an information-packed work identifying two major problems causing the spiritual and moral decline in our country: the secular agendas to blot out God, and the complacency of Christians. HOW and WHY is this happening?