These videos include sermons and messages that were shared at various churches, while others are commentary from David's "Christ and Culture" series. As we learn to love the Word of God more and live for Him, are we pursuing a deeper relationship with Christ in prayer, worship, fellowship, and especially the study of His Word? Biblical teaching is the most important aspect of a church and the Christian life. Truth is revealed throughout Scripture, and faith comes by hearing the Word.
I hope these messages encourage your heart, strengthen your faith, and increase your passion for the Lord Jesus as well as your desire to share the Gospel. Watch videos here or click a link to go to the blog/notes.
The Trinitarian Controversy, the Deity of Jesus Christ and the Great Hymn –Extensive study notes and commentary
If Jesus Christ is God and if the Bible is inspired – literally "God-breathed" by the Holy Spirit – then everything Jesus said and taught is true. In that case, Christians had better understand what the Scriptures say about Him and obey his teachings. We know and believe Jesus Christ is both Savior and Lord, and our faith is based upon not only His finished work on the cross, but on His divinity and humanity. "For in Him all the fullness of Deity dwells in bodily form," Col. 2:9
Do Not Be Deceived, Church: Wake Up and Watch Out! – sermon notes, blog
Christian friend, this is an urgent message for these dangerous, deceptive days in which we live. Be encouraged to seek first the kingdom of God, know the truth, and cultivate an eternal perspective! Don't conform to culture, and understand that at every point the liberal movement is in opposition to biblical Christian teachings.
What Would Jesus Say to Lukewarm Churches in America Today?
QUESTIONS TO CONSIDER: Is your life bearing fruit for the Lord Jesus Christ? Are we passionate about God, spiritual things? Who or what is our first love? Do we love this world more than we love Gods Word? Are we prepared for persecution when it comes? If Jesus rebuked many of the early churches for straying, leaving their first love, putting up with false doctrine, or for being lukewarm, how could we, American Christians, think He wouldn't harshly warn and correct many of our churches today?
Jude: Defend the Faith, Warn the Church – Bible Study notes with Scriptures
The book of Jude ("Judah" in Hebrew) was written just thirty-five years or so after Jesus Christ ascended to Heaven. Jude was a half-brother of the Lord Jesus and a brand new convert and yet, he warned disciples to contend for the faith. Charles Spurgeon once said, "Discernment is not a matter of simply telling the difference between what is right and wrong. It is knowing the difference between right and almost right."
The God of Israel, America, and History?– transcript of this 4 minute video
Plenty of American history has been rewritten and is now being parroted throughout academia. Many have also tried editing world history as well, particularly when it comes to Israel and the Jewish people. May 14, 2018 marks the seventieth anniversary of Israel becoming a state, and it should be noted the nation was not "created" in 1948. Israel was miraculously re-gathered according to God's will and Bible prophecy. Over five million Jews returned to Israel, and as predicted, the remnant was restored (Isaiah 11:11-12; Ezekiel 37:21-22; 38:8). Never before in history has a nation or people been dispersed throughout the world and then centuries later, returned to their homeland from the north, south, east, and west (Isaiah 43:5-6). 
The Last Days: Israel, the Prince of Peace, the Hope of the World (2016 sermon)
The Bible teaches that Christ Himself is our peace, and also instructs us to pray for the peace of Jerusalem. And yet we know a coalition of hostile nations currently surrounds Israel. Things just may get worse before they get better, but how America treats Israel is critically important. Jesus is the Truth, and truth (doctrine) divides people. We also know God is sovereign over all events, leaders, nations, and His kingdom rules over all.
Worldview Matters: Truth or Coexist & Consequences 
Can all religions "coexist"? What if Jesus is right that He is the Way to God? After thousands of years of attacks, opposition, and scrutiny by critics − warfare that no other work has ever seen − the Bible has withstood the onslaught, has gained credibility, and the Christian faith has continued to thrive throughout the world. Why? Because it's true! No other written work has the power to convict people of their sin, the ability to change human nature, and offers a permanent solution to man's greatest problem: mortality.
Oh brother! Beyonce Mass: 'Our Mother Who Art In Heaven'?
What is 'church'? When you use worldly means to give people what they want rather than what they need spiritually, please call it something else because you're not worshiping the one true God. Christians are to be set apart from the world, not blend in. Jesus said if we love the things of this world, God the Father's love is not in us (1 John 2:15). Trying to attract sinners with gimmicks and entertainment is not biblical. Let's get back to the basics (Acts 2:42). 
Israel, God's Sovereignty, and Prophetic World History: Sermon Audio
God "changes times and seasons; He removes kings and raises up others (Dan. 2:21)." His faithfulness encourages us because we can trust that He will make good on the remaining predictions regarding the return of Christ and the End Times. The Lord seems to be setting the stage for His return like never before. "And the LORD will be king over all the earth; in that day the LORD will be the only one, and His name the only one (Zech. 14:9)."
The Case for Christ: Historical Evidence, Resurrection, Fulfilled Prophecy
When is enough evidence enough evidence? The Bible is a masterpiece combining thousands of years of historical events, written by at least 40 different authors on three different continents, over a span of 1,500 years! Hundreds of prophecies have been fulfilled. Historical, prophetic, and archaeological evidence – not to mention hundreds of eye-witnesses – confirm the resurrection of Jesus Christ! 
Is Jesus a Liar, a Lunatic, or Lord and God? – article
Maybe you're someone who thinks Jesus was just a good man or good teacher. But if He lied, can He really be good? Would you die for a lie? What if the men He spent three years of His life with were all telling the truth? What about fulfilled prophecies or all the miracles they witnessed? Hundreds of martyrs also believed in Jesus' resurrection enough to die for their faith. Is the Bible reliable and does Scripture offer compelling evidence for their claims? The short answer is yes.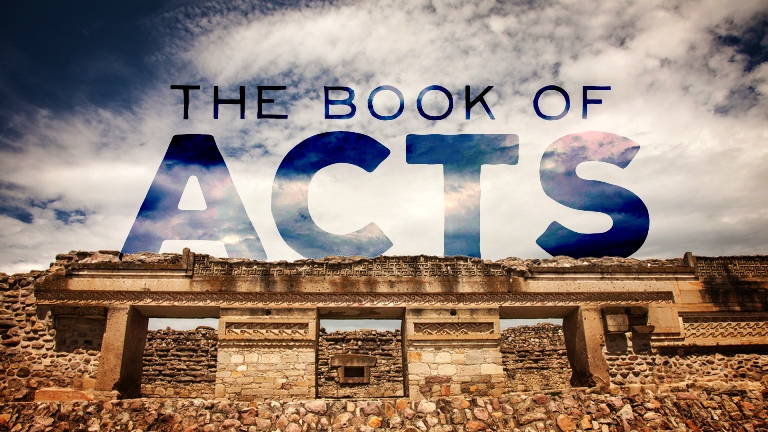 Message 1: the Proof of the Resurrection,  Message 2: the Powerful Gift of the Holy Spirit,  Message 3: the Promise of Salvation & Birth of the Church,  Message 4: Repent and Return to God – the Impact of early Christians. Sermons from 2016 (Video 1 includes introduction to ACTS) 
The Power of the Spirit Indwelling Holy Spirit – (Audio only)
The Holy Spirit makes THE difference in a believer's life. He gives us power to witness, He will guide us into all truth; He is not just some vague cosmic force. He is the third person of the Trinity., He is alive, He is active, and He resides within you.
When Churches Entertain Rather Than Worship – video transcript w/links
Abandoning biblical basics, countless churches have gotten off track. We have lost our reverence for a holy God, and practically abandoned the once-solid foundation of the teaching of Scripture which is the primary purpose of the church! Too many conferences and church services today barely resemble the early church and biblical worship, let alone point to Jesus Christ. This is embarrassing. A.W. Tozer once said, "The church that can't worship must be entertained. And men who can't lead a church to worship must provide the entertainment. That is why we have the great evangelical heresy here today–the heresy of religious entertainment."
Jesus Rebukes the Pharisees: Arguing with God, the Final Authority
Matthew chapter 22 is a mix of parables Jesus spoke against the Jews who rejected Him, the failed attempts of the Pharisees and Sadducees to trap Him, and some of Jesus' strongest words of condemnation that He ever spoke while He walked the earth. The most educated, religious and political leaders in Jerusalem were too blind to see Messiah and too proud to receive Jesus. In turn, they rejected the God they professed to believe in. Some today profess to know Christ and yet reject His teachings.
But Wait – Aren't You Judging Me for Making a Judgment? – blog
The phrase 'Judge ye not' (Matt. 7) is perhaps one of the most misunderstood and misapplied biblical concepts. Rarely does anyone want to confront sin, and rarely does a sinner want to be confronted. This presents a problem. Rather than address sin invading the church, we open the door to even more compromise by accommodating immoral behavior because we don't want to offend anyone. But is this what Jesus taught?
ADDITIONAL RESOURCES
Infecting Christianity: Where Did the Emergent Church 'Emerge' From?
Creation Vs Evolution – Worldview War
Then the End Will Come: The Importance of Bible Prophecy
Redefining Truth – book Introduction