Does God even care about sports? Did He cause the Philadelphia Eagles to win the Super Bowl? Aren't there Christians on practically every NFL team? Why would He care about who wins when it comes to entertainment?
In case you missed it. In modern David and Goliath fashion, the Philadelphia Eagles overcame Tom Brady and the New England Patriots in the 2018 Super Bowl LII, and during the Lombardi Trophy presentation, Eagle's coach Doug Pederson said: "I can only give the praise to my Lord and Savior Jesus Christ for giving me this opportunity."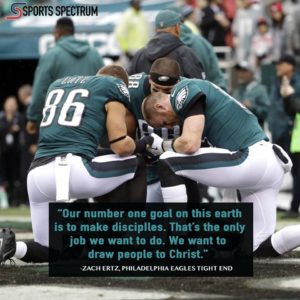 Next, Eagles' TE, Zach Ertz, who caught the winning touchdown, also acknowledged the Lord and recently said, "our number one goal is to make disciples and draw others to Christ." QB Nick Foles got up and gave glory to God. 
Two weeks earlier after beating the Minnesota Vikings in the NFC Championship game, Eagles QB Nick Foles said,
"First and foremost, all glory belongs to God. I wouldn't be here without Him and this is just very humbling and unbelievable. I'm blessed to have amazing teammates and coaches."
Did God favor these Eagles or did He give them favor allowing them to win? What's the difference and does it matter? God does care about our hearts. He does care who gives Him glory, and who denies Him.
There's a fascinating back story here. Two years ago, Nick Foles went through a time of doubt and discouragement; he took 8 months off and was almost positive he would not return to football. Almost. He kept praying and reading the Bible, and God had different plans. He led Nick to 2 Corinthians 12:9-10.
And He has said to me, "My grace is sufficient for you, for power is perfected in weakness." Most gladly, therefore, I will rather boast about my weaknesses, so that the power of Christ may dwell in me. Therefore I am well content with weaknesses, … for Christ's sake; for when I am weak, then I am strong.
Today, Foles is not only a world champion but also a Super Bowl MVP. He was asked about the decision to return to football.
"It took a lot more faith to come back and play than it would've to go in the other direction; either way would've been fine. Either way, I would've trusted in God. I would've done something else and glorified God in that."
Last year the Eagles were at the bottom of the NFC East at season's end. And yet, they were improving and starting to rally behind their young QB and leader, Carson Wentz. After throwing 33 TD's this season and leading the Eagles to a 12-2 record and a playoff birth, he was injured in December against the Rams.
It was Nick Foles' moment to step up and shine his light. Did he ever! He and Wentz both gelled with offensive coordinator, Frank Reich, also a Christians and a former seminary president.
But talk about a controversial and tumultuous season for the NFL due to the National Anthem protests, lower ratings, disgruntled fans, and more injuries to key players including concussions. But true Christians take a knee – not in protest – but to bow before their Lord and Savior in humility. More on that in a minute.
Even the liberal Washington Post noted that the Eagles "strong faith" not only bound them together, but attracted "new fans" in the process. Check out his Audience of 1 foundation! Sure, Carson Wentz has been criticized for being vocal about his faith, and when asked, he responded:
"Jesus was persecuted everywhere he went," Wentz said. "So if Jesus, who is our ultimate example, endured that, then I can endure a couple tweets. I can endure a little riff-raff here and there."
Reminds me of the reaction of the Apostles in the early church. In Acts 4:19-20, Luke writes:
But Peter and John answered and said to them, "Whether it is right in the sight of God to give heed to you rather than to God, you be the judge; for we cannot stop speaking about what we have seen and heard."
There's more. A group of Eagles players hold a Bible study for couples on Mondays; they meet for Bible study on Thursdays, and get together for prayer and devotionals the night before games.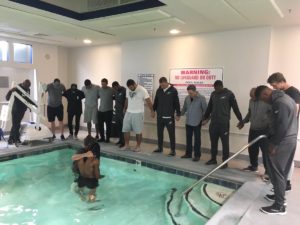 They've even gathered for baptisms in some unusual places including the recovery room pool in the team facility where at least five players were baptized this season.
And before a Thursday night game at Carolina last October, second-year pro, Marcus Johnson was baptized in a hotel pool. He tweeted a photo to his fans with the bold caption:
First time being Baptized! Corporate Worship is a beautiful thing!! Cleansed & Reborn in JESUS name!!
The news spread and the Eagles apparently developed a reputation as one of the most dedicated, spiritual teams in the country. Even one of the Christian players on the New England Patriot's, Matthew Slater, said:
"I really appreciate [Carson Wentz's] boldness for the gospel, how he represents Christ day in and day out. And it's not only him… Nick [Foles]. Chris Maragos. Brother Burton. I mean, there are a lot of brothers over there that stand firm for what they believe in, they represent the gospel in a tremendous fashion."
I've never seen anything quite like this before at this level. I hope God is reaching more hearts as young Christian men learn how to bear good fruit. There was a special moment the cameras didn't show, but that was captured on video as Eagles' lineman Stephen Wisniewski led a Scripture-filled, passionate prayer with more than a dozen Eagles players kneeling on the field after the game.
A pastor friend of mine stated:
"If the Eagles never win another Super Bowl, this win was a testimony of how unashamed Christians SHOULD be when they're before a watching world (unlike SOME "Christian" in name only celebrities)."
We're not idolizing these imperfect men nor am I suggesting you watch more football or become an Eagles fan. Let's all pray for more Christian athletes – on every team in every sport – to glorify the name of Jesus!
So, what's next? Nick Foles revealed he has been studying at seminary and wants to go into ministry following his retirement from football. He believes Christian ministry as a pastor is the way he wants to live out the rest of his days; he wants to reach people for Jesus.
"I can't play football forever. I've been blessed with an amazing platform and it's just a door God has opened, but I still have a lot of school left and a long journey."
After winning one of the most exciting Super Bowls in history, and after the noisy, confetti-filled celebration on the field, Eagle's players including Nick Foles, Carson Wentz, and Zach Ertz were in a quiet room – by themselves – praying, and thanking God.
Final point: Not everyone uses their platform to glorify God. Let's pray for and support Christian athletes who are unashamed of the gospel and most importantly, let's remember to live it and share it ourselves.
MUCH MORE:
The binding Force behind the Super Bowl Eagles – VIDEO
God used 2 Corinthians to lead him back to football: Nick Foles teaches on surrender
Carson Wentz testimony & sermon on the Gospel
Eagles' Chris Maragos and wife back pro-life pregnancy center