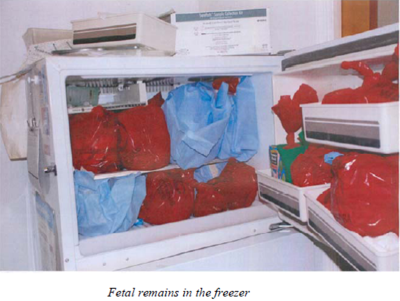 Less than one week before filming begins for a much-anticipated expose on convicted murderer, abortionist Kermit Gosnell, a Philadelphia judge has awarded $4 million to the daughter of a woman who died at Gosnell's clinic due to a botched abortion. The funds include $550,000 under the Wrongful Death Act, $100,000 under the Survival Act and $3.25 million in punitive damages.
Life News reports:
Initially, Gosnell was charged with eight counts of murder along with several of his staff at his abortion clinic. In fact, his wife and sister-in-law were charged for assisting in in botched abortions, practicing medicine without a license or covering up the actions of those who did. Unbelievably, the Grand Jury report estimates Gosnell delivered hundreds of babies alive and then had their spinal cords "snipped."
The details in this horror story were so gruesome and the evidence so potentially damning to the pro-abortion movement, the liberal media refused to report on it. Among some of the disturbing facts, the remains of 45 babies were found by authorities at the Philly clinic, and flea-ridden cats defecated freely including in procedure rooms. Similar to Planned Parenthood, Gosnell preyed mostly on poor and minority women.

This is a man who collected baby feet in jars.

People with a conscience, particularly Christians, must not avoid this discussion and this story must be told; not because we want to promote the pro-life movement, but because Kermit Gosnell was the biggest serial killer in American history!
Screenwriter of Gosnell the Movie, Andrew Klavan took it a step further and said he hopes the film exposes the people who allowed Gosnell to get away with his heinous crimes. Klavan stated:
Many crime writers, mystery story writers, they like to create great villains. Hannibal Lector, perfect example. I don't care as much about the villains as I care about the people who let it happen. It's the people around them and how they react. Are they heroes, are they cowards, are they people who turn their backs and say they didn't see anything?
Filming began September 21. Interesting timing.

Last Tuesday, the Center for Medical Progress released a 10th video further exposing Planned Parenthood and their practice of harvesting, marketing, and selling body parts of aborted babies. This one features several top-level Planned Parenthood executives discussing the organization's secretive practices. Dr. Carolyn Westhoff, Senior Medical Adviser for PPFA admitted, "we would have the potential for a huge P.R. issue in doing this," while another official boasted about some colleagues who "generate a fair amount of income doing this."
How much evidence do we need, Christian friend, before we come to terms with our own depravity as a nation and our apathy as a church? Let's not stay in denial any longer. Because of our past silence, we are living with the consequences of sin and immorality is permeating our culture. We have allowed things to get this bad in America and the confessing church needs to act because it is literally a matter of life and death.
I've said this before: we cannot expect unbelievers to be concerned about biblical morality – they need the saving grace of Jesus Christ. We can and should however, expect pastors to address this issue and more believers to speak up for life. 
As William Wilberforce once said:
You may choose to look the other way but you can never say again that you did not know.
*In my 2015 book, The Cost of Our Silence, I provide two extensive chapters on abortion including a Scriptural case for life; some history on Roe vs. Wade, plenty of unknown facts, and the truth about the anguish women go through that we rarely hear discussed.