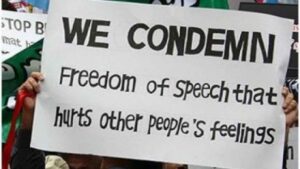 The University of Pittsburgh (Pitt) incited an activist mob to protest an event they disagreed with, then charged conservative groups for the damages.
It's not exactly breaking news that free speech on college campuses in America now depends on your political affiliation, worldview, and how you identify sexually. It is guaranteed to everyone – except conservatives, Christians, and Republicans.
In a recent case at Pitt, the conservative speaker was called "Hitler," one sign read, "Capitalism will kill us." Another sign said, "You Can't Erase Us." This is now typical. 
It's the 'one-way tolerance' we've been witnessing for years now on college campuses – and it's just getting worse. Then, after leftist activists rioted on campus, the University demanded conservative students pay for increased security fees and damages.
In mid-April, two student groups at Pitt hosted a debate between Michael Knowles from the Daily Wire and Brad Polumbo, cofounder of BASED Politics. The groups, Intercollegiate Studies Institute and a chapter of College Republicans promoted and hosted the event which was planned months in advance.
All university policies and procedures were followed according to Alliance Defending Freedom (ADF). The topic was, "Should Transgenderism Be Regulated by Law?" and the event included an audience Q & A and a meet-and-greet.
A month before the event however, the university issued a press release referring to the debate as "toxic and hurtful for many people in our University community." Provost Ann Cudd said one of Knowles' recent speeches was "repugnant" and contained "hate-filled rhetoric."
This is one of their tactics: whatever the left chooses to label "hate speech" is censored, shut-down, and often the person accused is attacked.
If you're on their side of the debate, you're apparently well-protected. So much for what was formerly known as critical thinking and the free expression of ideas in an academic environment.
Days prior to the 'controversial' debate, a leftist university professor told students,
"[t]he Theatre Arts department, along with many other departments, students, faculty, and staff at Pitt, strongly condemns this event and has called on the University to cancel Knowles' appearance due to his history of spreading hate speech and inciting violence against trans people."
No examples of incitement of violence against trans people were provided, of course.
But the prof then took it up a notch and urged students to attend other events planned for Tuesday April 18 in response to Knowles' allegedly dangerous, unsafe, and unwelcome presence on campus." In typical mob fashion, Democrat socialists showed solidarity and burned an effigy of Michael Knowles with a Hitler mustache in the street outside of the venue.
Prior to the event, Pitt university told the sponsoring student groups that security costs for the debate would cost $2,000. But the closer it got to the date of the event, the costs increased substantially to more than $18,000.
For those who have been out of school for awhile, that's an increase of more than $16K.
The University of Pittsburgh demanded that conservative students pay $18,734 in security and damage fees after 250 of their own leftist protesters rioted at the scheduled event, according to a letter sent to the college by Alliance Defending Freedom.
ADF states that the university "encouraged students to protest the debate" and hundreds of rioters filled the street "within striking distance of attendees." The demand letter states:
"This proximity allowed the mob to throw smoke bombs and other incendiary devices into the crowd, as well as using a road flare to burn an effigy of Knowles. That action prevented the police from keeping the O'Hara Student Center free of threats, and it ultimately caused Pitt police to urge ISI to end the event before it concluded because the situation was 'deteriorating,'"
University officials violated the First Amendment rights of conservative student groups. Would they do the same if the tables were reversed? We don't even need to wonder. 
The point? These are the all-too-common discrimination and double standards applied on college campuses across the country. Gone are the days of open dialogue as opposing viewpoints are now denied by a majority of both faculty and students. Do we need to mention they overwhelmingly lean left and vote Democrat?
To support the suppression of free speech, they even introduced new language including words such as microaggressions, trigger warnings, and safe spaces. 
At Princeton University, a new survey concluded that the atmosphere on campus supporting free speech is particularly negative for conservative students. More than three-quarters (76%) of students at Princeton said it is sometimes acceptable to shout down a speaker, and 16 percent believe using violence to stop a speech they disagree with could be justified.
The College Fix also reports that at the University of Buffalo, a conservative student group, Young Americans for Freedom chapter filed a lawsuit over a policy that effectively cancels the club for hosting Michael Knowles.
In Wisconsin last month, the Medical College canceled an anti-DEI event. (diversity, equity, and inclusion) Why? Because it could 'jeopardize safety' due to the fact the invited speakers were Republican Senator, Ron Johnson, and National Association of Scholars expert John Sailer.
So back to Pittsburgh. Alliance Defending Freedom Senior Counsel Philip Sechler said the university was worried about how coddled liberals would react to certain viewpoints. It was bad enough Pitt charged conservatives with security fees and openly takes sides,  
"But it's worse that the university also encouraged students to disrupt the event and shut it down. This is exactly the type of suppression the First Amendment forbids. …We urge Pitt officials to swiftly rescind this unlawful fee and amend their policies to protect every student's freedom of speech."
Intercollegiate Studies Institute President Johnny Burtka declared that Pitt violated "sacred trust by inciting a riot," where students were peacefully assembled to simply discuss and debate ideas.
It took more than a half century to get here, but we're clearly seeing some of the rotten fruit of the K-12 'education' system and its agenda to recruit and produce social justice activists who hate the country.
Our great grandparents, had they considered the possibility free speech might be censored, would boldly declare, 'that would never happen in the America we know and love.'
And yet, it did happen. We had better understand why, and how the left is gaining far more young converts than the church.