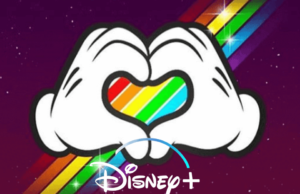 Disney Doubles Down. On two major animated films featuring LGBTQ elements, Lightyear and Strange World, the woke Walt Disney has lost over $300 million and its stock plummeted last year by 44%.
Knowing they've lost public support and as well as over a quarter of a billion dollars on just two animated films, what did Disney do? They decided to promote and host its first ever "Disneyland After Dark: Pride Nite."
Disney, darkness, and depravity. Sounds about right.
It used to be nearly impossible for a Disney animated feature film to bomb at the box office, but now they have two major failures last year alone likely due to same-sex characters and themes injected in both "Lightyear" and "Strange World."
So rather than learn from its historic failure and change course, Disney basically decides to flip off the majority of its audience. Last week's tweet states,
"Celebrating the LGBTQIA+ community and allies, proudly join us for the first-ever Disneyland After Dark: Pride Nite at Disneyland Park on June 13 & 15!"
Celebrating pride in the dark at the park. Got it. Disney's website announced the June event as a "Proud Celebration" and emphasized it was an after-hours event with ticket prices at $139.
The "Disneyland After Dark: Pride Nite" includes:
Mickey Mouse and Minnie Mouse dressed in "special attire,"

Disney photographers taking pictures of guests in front of "Pride-themed backdrops" and "inspirational messages,"

"Themed Eats" food options, and

A "family-friendly, joyful dance party with Disney Characters."
We've seen major corporations dig their LGBTQ heels in recently and immerse themselves in wokeness, progressive politics, and transgender ideology. Maybe they can afford to lose millions, or in Disney's case, hundreds of millions of dollars.
Disney's stock sank to a 52-week low at the end of 2022 recording its worst year since 1974.
Matthew Bush at The Western Journal concludes:
"The common theme between these movies and the reason that they both lost more money than any other animated film in Disney history is the showcasing of woke ideology that permeates both films."
The animated film, "Strange World" did earn $73 million at the box office – but it had a $317.4 million budget. Ouch. It's clear Disney pushed the envelope by featuring the first openly gay main character. "Strange World" lost nearly $200 million.
"Lightyear" also bombed despite having all the makings of a box office hit. The "Toy Story" franchise was one of Disney's most successful, but "Lightyear" lost $106 million.
Naturally, most film critics and Disney executives defended both movies. They even cited a few excuses for the movies flopping such as, "foreign countries banning the movie for its on-screen LBGT representation, and poor marketing."
Sounds like delusion and denial to me.
Earlier this month, the Parents Television and Media Council (PTC) along with over ten thousand parents and other concerned citizens signed a petition to Disney. They're calling on the Disney Board of Directors to remove sexually-themed content targeted at children in Disney entertainment and on Disney-owned platforms.
Don't hold your breath.
Last November, I addressed this problem and said just like Hollywood, Disney is not likely to go back. The agenda is too entrenched in its brand now as well as the entire entertainment industry. Parents have been warned. Disney is out of the closet and LGBTQ activists want to force their immorality upon the entire population.
And they're converting young children across the country. What a drag.
Remember, the LGBTQ movement might seem popular or prevalent right now, but they've overplayed their hand. These numbers as well as recent polls indicate the majority do not support the leftist ideology that seems to be driving the train.
Let's look to the Bible and the Gospel of John for some insight on human nature:
"And this is the judgment, that the Light has come into the world, and people loved the darkness rather than the Light; for their deeds were evil. 20 For everyone who does evil hates the Light, and does not come to the Light, so that his deeds will not be exposed. 21 But the one who practices the truth comes to the Light…" John 3:19-21
The simple fact is people love their sin so they remain in darkness instead of turning to Jesus, the Light, and the only one who can rescue them. Their time is running out.