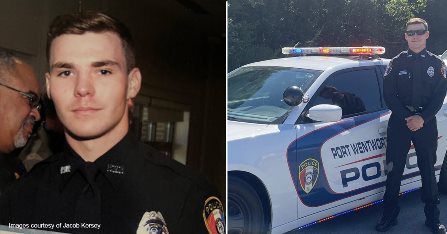 The trap was set after a Christian police officer in Georgia, Jacob Kersey made a comment on social media about God-ordained, natural marriage between one man and one woman.
It was a brave thing to do in today's woke, anti-Christian, politically correct cancel culture, but this reaffirms how controversial it is to take a biblical stand.
Rather than deny his faith, he resigned from his job after he was threatened to be fired, and now this 19-year-old says he is determined to fight for free speech and defend others being forced to hide their beliefs or suffer consequences.
Religious freedom law firm, First Liberty is defending Jacob Kersey, now a former Port Wentworth police officer, and sent a demand letter to the City government asking them to apologize to Kersey for violating his First Amendment rights.
So, what happened?
Kersey's supervisor told him the department received an anonymous complaint about his social media post – when he was off duty on January 2. Did you get that?
He wasn't even on the job.
Kersey posted a paraphrase of Ephesians 5 on his personal Facebook page,
"God designed marriage. Marriage refers to Christ and the church. That's why there is no such thing as homosexual marriage."
This was the case up until about 25 years ago when the propaganda, the twisting, dismantling, and redefining of marriage was in the works.
Kersey was then threatened in an official letter that any future comments on social media would harm his ability to do his job in a "fair and equitable manner." So, he would be "unable to perform" his duties? What does that mean?
Unable to do his job because of his (bigoted, fundamentalist, hateful, intolerant, narrow-minded, old fashioned) Christian worldview. 
Police major, Bradwick Sherrod declared that Kersey offended "protected classes" by talking about his beliefs – on his own time – and that his "objectivity" was in question. The letter also warned that Kersey was unlikely to be able to carry out his duties to protect and serve the city's homosexuals and lesbians.
There it is.
Even though they admitted he hadn't violated any department policy, Kersey realized he was cornered, targeted, and decided to quit his job rather than cave.
Kersey wants other Christians to be encouraged and protected from discrimination and said that they shouldn't "allow themselves to be silenced by people who have no respect for the First Amendment and no respect for the Word of God."
He said if people are afraid to express their faith publicly, you are not truly free and added,
"There's no doubt in my mind that if the city is allowed to sweep this ludicrous incident under the rug…this will happen to another officer…"
First Liberty is "keeping all our options open" while it awaits a response to its letter. The law firm wants to help the City of Port Wentworth understand its "obligations" to the U.S. Constitution.
Jacob Kersey is concerned about others being told (at their jobs) that their faith is considered hate speech. Why? Because basic biblical teachings are not only offensive to a godless culture today, but deemed hateful and intolerant. He added that "we've already arrived there, and this is going to spread…" if people don't stand against it.
If.
Realizing the fact that we have brothers and sisters around the world suffering severe persecution, this mature young man is not comparing his situation to Christian martyrs. Many have died for their faith. But he did challenge other believers and asked a key question: if we aren't willing to stand for Truth in the workplace, do we think we would confess Christ when persecution increases?
In Matthew 10: 32-33, Jesus states:
"Therefore whoever confesses Me before men, him I will also confess before My Father who is in heaven. But whoever denies Me before men, him I will also deny before My Father who is in heaven.
Great reminder.
If you are ever faced with the opportunity to take a stand in this pivotal moment in our culture, remember God has you here for such a time as this. Your  stance and voice will encourage and inspire others.
You may be wondering about Jacob Kersey's career. Apparently, police departments from different parts of the country have been contacting him about coming to work for them.
Well done, young man. Pray for him and for countless others who have gone through similar situations when they were discriminated against and their religious freedom was threatened.