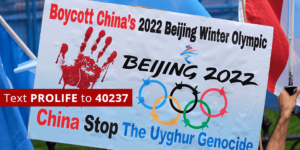 Some are calling them the Genocide Games. Ratings at the Olympics are abysmal, but how was the Chinese Communist Party given the privilege of hosting one of the world's most prestigious events with little opposition from the international community?
Since 1950, more than 65 million Chinese people have been killed for political reasons according to the Black Book of Communism. And, as the Olympics play on, the Chinese Communist Party (CCP) continues getting away with "sports-washing": using the Games to distract from the reality of egregious human rights violations.
Co-Chair of Women's Rights Without Frontiers, Reggie Littlejohn is one of many urging viewers to boycott these Olympic games for reasons that should be obvious.
"The Chinese Communist Party is a murderous, totalitarian regime – arguably the worst human rights violator in the world. Forced abortion, forced sterilization, forced organ harvesting, forced labor, religious persecution, genocide, crushing Tibet, Hong Kong and Southern Mongolia, infecting the world with the coronavirus – what human right have they not violated?"
Shame on the International Olympic Committee (IOC) and NBC for their complicit cover-up of evil. They deserve the awful ratings, down 43.8 percent this year according to reports. But kudos to sports analyst, Mike Tirico for opening the 2022 Olympic broadcast commenting on the CCP's human rights record and the fact Covid started in China. Uh-oh.
Did Tirico go rogue? Not surprisingly, NBC sent him back to the U.S. Monday night even though he was scheduled to be in Beijing until Friday. Here are a few of his comments that may have gotten him in trouble:
"Everything and everyone attached to these Games is facing questions," Tirico said. "The United States government is not here, a diplomatic boycott announced this fall joined by Canada, Great Britain and Australia citing China's human rights record and the US government's declaration that the Chinese Communist Party is guilty of committing genocide on the Uyghur Muslim population in Western Xinjiang region."
I doubt that many people care about diplomatic boycotts when it comes to entertainment because the show must go on! But leading up to these Olympics, many tried raising awareness. 
Open Doors is a non-denominational mission supporting persecuted Christians in the world. Similar to Voice of the Martyrs, they work with local partners to distribute Bibles and Christian literature, give discipleship training and provide emergency relief aid. They are calling on every Christian in the nation to join this boycott of the Olympics in the name of our persecuted brothers and sisters.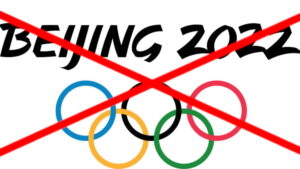 On its website, they list four main reasons they called for a boycott of the Games.
Squelching dissent – That means squelching anything outside of what China interprets to be in the best interest of the nation, including Christianity. It is illegal for anyone under the age of 18 to attend church; youth groups are outlawed.

They're always watching … everyone. There are hundreds of millions of surveillance cameras in communist China; the most oppressive and sophisticated system in the world; church attendance is strictly monitored.

Shocking human rights violations – it's not just Christian persecution, but other minorities the communists think are a threat to their godless government. One example is the Uyghur population, a mostly Muslim ethnic minority group. Scholars estimate Chinese authorities detained more than 1 million Uyghurs in re-education camps.

It's a global effort – the Chinese government will be scanning social media, watching global TV ratings and reading articles on how other countries perceive them. By boycotting the Olympics, we're showing them we don't agree with what they're doing.
Sadly, when it comes to their profits, greedy corporations sponsoring the Olympics turn a blind eye to the covert cover up of evil, including genocidal concentration camps, China's persecution of Christians, their forced organ harvesting, and their anti-God crushing of all faiths. Whatever happened to the world's concern about tolerance?
But we're also hearing stories of Olympic athletes complaining about the allegedly poor conditions in Beijing, some of them in tears as they describe poor living conditions, limited dining options, isolating rooms, and debilitating weather conditions. There are also reports of athletes being given small amounts of food or barely edible meals, odd timing of Covid positive test results, quarantine conditions, and other very questionable protocols.
The main point is in all this is for those of us who care, to boycott these Beijing games and send a clear message.
The Bible reminds believers to remember those who are persecuted for Jesus as if we, ourselves, were suffering. As Christ-followers, we're all part of the worldwide family of believers. We have brothers and sisters in each and every country around the globe including countless believers in severely restricted nations. It's because we're a family, where we feel for each other and carry each other's burdens, that many are urging you to boycott this year's Olympics on TV and social media.
I agree with Family Research Council's Bob Fu, who says the world needs to know the truth about the CCP. Instead of puff pieces on impressive Chinese architecture or achievements, NBC and other media covering the Games should ask serious questions about human rights violations in China being swept under the rug; particularly the ability of average Chinese citizens to practice their faith.
In an article for Jerusalem Post entitled, "Genocide Olympics: Winter Games in China is a stain on humanity," Emily Schrader writes: 
"Who is helping the world turn a blind eye to these abuses? The media, the advertisers, the countries, and the International Olympic Committee (IOC) all have blood on their hands when it comes to supporting the CCP for these Winter Olympic Games."
Remember those who are suffering; those who the media, world governments, and hypocrites ignore; those who are alone, dying, or persecuted in communist China. And while the best athletes in the world compete in Beijing, pray, yes. But help expose the dark history, the fact China is home to some of the world's most vicious, horrific human rights abuses and religious rights violations.
You certainly won't hear it on most so-called news outlets or the global big tech media conglomerate. Let the people take a stand – and may justice prevail.
Video courtesy of Freedom Project Media (freedomproject.com)