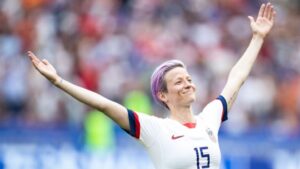 How many fans do you need to lose before you understand you're alienating more than half of your audience when you use sports to push progressive politics? Outspoken U.S. Women's Soccer team co-captain, Megan Rapinoe is on top of the world for helping win the 2019 World Cup last week.
Congratulations. But it's hard not to notice the pink-haired activist makes the NFL's Colin Kaepernick look like a Boy Scout.
From kneeling during the National Anthem before games to saying "f-you" to President Trump, some of these social justice athletes just don't get it. Their insults and disrespect come off as anti-American, and fans are tuning out. 
The moment had so much potential to unify Americans, but ended up a disappointing celebration clouded by politics. Nice job, ladies. Too bad your leaders blew it.
The Family Research Council's Tony Perkins put it this way:
"It was supposed to be a euphoric win – another chapter in American sports dominance. But the message from the captain of soccer's reigning champs was clear: our country may be wearing the same colors, but that doesn't mean we're on the same team."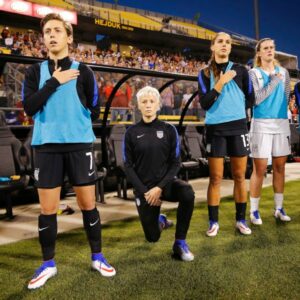 Megan Rapinoe forgets that she wasn't playing for the Trump administration; she's playing for the United States. Her team and the Flag represents all Americans, not just the radical left. She made it very clear that she has disdain for the country, its president, and emphasized there were a lot of lesbians on the U.S. women's team.
Okay. We get it. That's women's sports today. But to say you'll never sing the National Anthem again or put your hand over your heart is a ridiculous and immature response to opposing political viewpoints and to losing an election a few years ago. Rapinoe recently said in an interview,
"I'm not going to the f—king White House… [and] I don't think anyone on the team has any interest."
Enter liberal hypocrisy. Asked who she would meet with on Capitol Hill, she said, "anyone who believes in the same things we believe in. Yes to AOC, yes to Nancy Pelosi, yes to Chuck Schumer." Sure enough, the women's national soccer team have received invites from all three Democrats.
I know, how inclusive.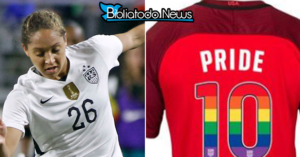 In another disappointing part of this story, there's speculation that one of the best players in the nation, Jaelene Hinkle, was snubbed from the team for being a Christian. According to the Washington Times, Hinkle chose not to wear a rainbow-themed women's soccer jersey in honor of Gay Pride month. In an interview last year with The 700 Club, she took three days to pray and seek God about wearing the LGBT jersey and said she felt convicted in her spirit to not wear it. 
You can guess what happened to Jaelene Hinkle. The very next game, fans waving rainbow flags booed her. That was the last time she played for the national team. World Cup women's team coach, Jill Ellis (who is married to a woman) cut Hinkle from the roster and told reporters her decision was 'solely based on soccer.'
Many sports fans say Hinkle should have been on that World Cup winner's podium with a medal around her neck.
But she grew up in a Christian home, became a believer in Christ at age 12, and played soccer at a Christian High School in Colorado. Three strikes right there. Hinkle received a scholarship from Texas Tech, and her professional team won the National Women's Soccer League championship in 2018.  Even many liberals admit Hinkle is one of the best in America at her position. Apparently, that doesn't matter anymore.
What a glaring contrast in treatment – otherwise known as discrimination. One player is glorified for her convictions (Rapinoe) while the other (Hinkle) is punished for them. Those who think this is okay should follow Megan Rapinoe's advice. "Hate less, listen more." Just make sure to do what she says, not what she does.
U.S. women's team goalie, Ashlyn Harris, another openly gay player, recently slammed former teammate Jaelene Hinkle saying,
"[O]ur team is about inclusion. Your religion was never the problem. The problem is your intolerance and you are homophobic. You don't belong in a sport that aims to unite and bring people together. You would never fit into our pack or what this team stands for."
Wow, more 'inclusion' demonstrated by lefties who fit into "our pack." 
By the way, during the celebration, the women dropped the American Flag to pose for a photo op. One U.S. veteran described their behavior as unpatriotic and narcissistic. Then there's the ongoing campaign for equal pay for women's soccer players. Never mind they don't sell nearly as many tickets, draw nearly as many viewers or sell a fraction of the merchandise, but they demand equal pay.
Shooting herself in the foot, Rapinoe alienated and excluded over half her market share by being belligerent about hating President Trump and dissing deplorables who voted for him. She's using her soccer platform to promote her own ideology, rather than work to bridge political divides.
She's not playing soccer for the Trump administration; she's playing for the USA.
Not that it would help, but she owes the president, conservatives, Christians, and millions of potential (and some former) soccer fans an apology. Just don't hold your breath because she's currently being praised in the public eye and enjoying every minute. By the way, did you notice how the sports world, the press, and the public generally respond with a collective yawn to the double standard? Megan Rapinoe has become a national hero and a role model, like it or not, and known not only for her play but her activism. 
Contrast this with words from a very different role model. In 2015, Jaelene Hinkle stated: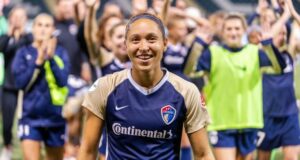 "Jesus didn't come to save those who already believed in Him. He came so that lost, rejected, and abandoned men and women would find Him and believe. I believe with every fiber in my body that what was written 2,000 years ago in the Bible is undoubtedly true. It's not a fictional book. It's not a 'pick and choose what you want to believe;' …This world may change, but Christ and His Word NEVER will."
How's that for perspective. Let's speak up and encourage Christian athletes like Jaelene Hinkle who are taking the heat these dark days in practically every sport. That is, if they dare speak.
Winning on the world stage is a big accomplishment, and the women's World Cup could have been a uniting victory for all Americans. All it did was drive the divisive wedge of identity politics even deeper. Please remember, Christian friends, this is only entertainment and it's best we avoid conforming and celebrating worldly things.
Do not love the world or the things in the world. If anyone loves the world, the love of the Father is not in him. 16 For all that is in the world—the lust of the flesh, the lust of the eyes, and the pride of life—is not of the Father but is of the world. 17 And the world is passing away, and the lust of it; but he who does the will of God abides forever. 1 John 2:15-17
*Video courtesy of Freedom Project Media
LINKS
Sign the Petition to Support Jaelene Hinkle!
Religious clash leaves USA's best left back an observer of World Cup bid
BreakPoint: The U. S. Women's Soccer Team and Jaelene Hinkle
VIDEO – Jaelene Hinkle on 7000 Club: Controversial Decision Threatens Soccer Career
Christian views may have kept star player off US women's soccer team
US Women's Soccer Team Goalie Blasts Former Christian Teammate: 'You Are Homophobic'