Their emotions are overriding their self-restraint, and they are pouring gas on the political fire. They hate Trump and want him impeached, but the vitriol and unraveling of the Left may in fact backfire, leading to the very thing they don't want: the reelection of Republicans in November and support for Trump. Many of us have warned this caustic culture will likely lead to violence – and there will be consequences.
The general willingness of most Democrats to push their progressive agenda at any cost is clear. Let's start with unhinged California congresswoman, Maxine Waters. She recently called for increased public harassment of those working in the Trump White House.
And get this: Maxine was thrilled that women and their families in the administration were recently targeted by activists at restaurants and even harassed outside their private homes.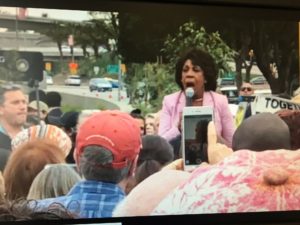 Calling for Trumps impeachment, she stirred up the California crowd:
"History will record while he tried to step on all of us, we kicked him in his rear and stepped on him; If you think we're rallying now, you ain't seen nothin' yet."
She accused Trump of sacrificing America's children while she supports infanticide and abortion on demand. She even called AG Jeff Sessions a racist. This is what they do.
And remember, Waters' rant came right after three separate Republican women were harassed, threatened, and cussed at during dinner, on the street, and at a movie theater!
One example is Kristjen Nielson, Dept. of Homeland Security Secretary, who was harassed and heckled not only at a restaurant but outside her home as well by members of the Democratic Socialists of America led by Allison Hrabar.
Liberals and progressives say they want women and children to be protected, but their actions prove their hypocrisy and godlessness. Their ideology matters more than civil discourse and respectful debate of ideas.
The current environment is what led to the mass shooting and attempted assassination of Republicans last year. (Ask Steve Scalise what he thinks about the current political environment.)
Maxine Waters continued her rant:
"We're going to win this battle because while you try and quote the Bible, Jeff Sessions and others, you really don't know the Bible. God is on OUR side!"
Wait just a minute. Remember how they voted on whether or not to reject God back in 2012 at the Democrat Party Convention? The majority actually booed and decided to kick God out of their party. 
So on one hand, they claim righteousness and pretend to want civility while on the other hand they stoke a political civil war and divide citizens. It's a step toward mob rule.
Perhaps the most concerning thing Maxine Waters said was her endorsement of open threats and public harassment of Trump officials.
"And so, let's stay the course. Let's make sure we show up wherever we have to show up and if you see anybody from that Cabinet in a restaurant, in a department store, at a gasoline station, you get out and you create a crowd and you push back on them, and you tell them they're not welcome anymore, anywhere," she yelled.
Not welcome anywhere in public? Can they leave their homes? This is irresponsible and should raise red flags.
According to the Washington Times, Judicial Watch filed an ethics complaint against Waters for "inciting violence and assaults on the Trump Cabinet." A hand-delivered letter was given to the House Office of Congressional Ethics calling for an investigation of Maxine Waters behavior.
We must not react in kind, but be bigger than the bullies even though the left is no longer willing to disagree respectfully. Their hatred for Trump and disdain for his supporters seems to have reached a boiling point.
Need a few reminders?
We've seen many references to Hitler by the Trump-hating media, Robert De Niro's f-bombs and desire to punch the president in the face, Peter Fonda called for kidnapping Barron Trump and putting him in a cage with pedophiles, Kathy Griffin posing with a mock severed Trump head and called Melania Trump a piece of s—t, Wanda Sykes tweets an f-bomb at Ivanka Trump and Samantha Bee called her a "feckless c—t, meathead Rob Reiner suggesting Trump voters are racist, Madonna thought about blowing up the White House, and this is a partial list!
It has reached the point where some are advising Trump aides to get guns and carry permits in order to be prepared for coming physical attacks.
Imagine if today's language toward a president was used when Barack Obama was in office. I think the reaction from the biased media would be quite different.
I couldn't agree more with this take by USA Today contributor, James Robbins:
Democrats should also understand these public tantrums and other slights are simply bad politics. Voters don't respond well to angry chanting losers harassing people, or to vulgar celebrities, or to threats verging on intimidation and violence. There is nothing inspirational about it, and it makes the targets of the anger look that much more reasonable. If Democrats think this crazed behavior will generate a "blue wave" in November, they are mistaken. 
Agreed. And for the rest of us, even though we have First Amendment rights under the Constitution, we should not stoop to their level of behavior. Pray for them – they need God! And respond by speaking the truth in love, knowing the ultimate battle is a spiritual one, and our real fight is not with people; it is with the enemy of our souls.
For those of us who are Christians, let's remember to live in such a way that others will hear the gospel and see the fruit of the Holy Spirit in us – both in our words and our lives as we point to our hope and salvation through the Lord Jesus Christ.
*Flag image, Heritage Foundation, iStock-607610082