Don't think this is just another isolated incident where Islam is being favored in public schools. The point here is simple: either teach on all religions equally or don't teach on any of them.
Since God, the Bible, the name of Jesus, and the Ten Commandments have been expelled from government-run schools in America, mounting evidence proves – decade after decade – every other belief system including atheism, humanism, secular progressivism, and Islam have been allowed.
A new report out of West Virginia says Mountain Ridge middle school students in Gerrardstown were asked to practice writing the Islamic declaration of faith known as the "shahada" in Arabic calligraphy. Translated into English, the statement claims, "There is no god but Allah. Muhammad is the messenger of Allah."
As part of the world religions unit of the class, the lesson plan leads students to profess the socio-political religion of Islam as true and to lead them to think Allah is God, the Creator.
Apparently, the 30-page section "Islam in the World Today" contains anti-Christian sentiment and required seventh graders to read segments of the Qur'an, learn Muslim prayer poses, and understand the Five Pillars of Islam.
The Muslim faith is both controversial and in direct contradiction to Christianity, so parents were outraged, especially after hearing students would be given a detention slip if they didn't do the assignment, according to reports. The teacher now claims the assignment was optional.
Both Christianity and Islam promote a standard of morality and doing good deeds, but the god of Islam is not the same as the living God of the Holy Bible. The Muslim holy book, the Qur'an, considers Jesus a prophet, but not Lord or the Savior. There is also no Trinity in Islam so the Holy Spirit is irrelevant to them.

Allah had no son, but the Bible teaches Jesus is God's Son. He was "with God in the beginning (John 1:1)," the Word who became flesh (John 1:14). Muslims deny that Jesus died on the cross to sacrifice Himself for our sins – a foundation of the Christian faith – as is His resurrection from the dead after three days in a tomb.
Packets were previously handed out to students on Buddhism, Christianity, Hinduism, and Judaism, but one parent pointed out that the Islam packet contained passages from the Qur'an. Not surprisingly, no Bible verses were included in the packet on Christianity.
More parents across the country have also objected to a Department of Education program called "Access Islam." According to the Clarion Project, the federally-funded program is directed at children from grades 5-12 and is also featured on various websites, including PBS Learning Media. The Smithsonian also promotes the course as does the United Nations.
A video from the course prominently features a Christian convert to Islam, who declares emotionally how he found the true religion without any "intermediaries." Concerned parents have noted the U.S. Department of Education provides no comparable study or promotion of any other religion.
One high school homework assignment obtained by a news outlet revealed the question: "How did Muslim conquerors treat those they conquered?" The correct answer was, "With tolerance, kindness and respect." So, invading armies annihilated their enemies with tolerance, kindness, and respect? Wow.
The prophet Muhammad was a violent warrior who led the slaughter of many people. Islam means "submission" and many were executed because they did not submit to Allah. For those open to truth, just do a little research.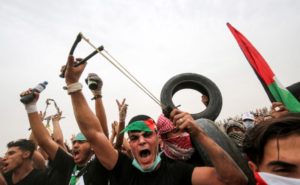 In a breaking story out of New York City, parents are outraged after a public school held a moment of silence last Tuesday for the people killed in Gaza. A Beacon High School public address announcement urged students to pause and honor those who died in the clash at the Israeli border during protest of the U.S. Embassy in Jerusalem. The terrorist organization, Hamas publicly confirmed 50 of the 62 people who dies were members of their militant Islamic group.
What about statements about peace in the Qur'an? "Abrogation" is a recurring theme whenever conflicting verses of the Quran are discussed. It means to cancel, repeal, or officially revoke something. In this context, the later or more recent verses calling for jihad and Holy War override earlier verses counseling tolerance or peace.
A few years ago in Olmstead Falls, Ohio, parents tried for years to raise awareness and get the school board to change some lessons and history textbooks that stated Muslims historically "practiced religious tolerance" by requiring Christians and Jews to pay extra taxes. There was no mention that the alternative was often death. They conveniently left those facts out.
Jenny McKeigue was notified by her oldest son that during class his teacher played a reality TV episode of "30 Days: Muslims and America" about converting to Islam.
Author and executive editor of The Federalist, Joy Pullman reported in 2016:
In "30 Days: Muslims and America," an imam tells a Christian man attempting to live as a Muslim for 30 days that Muslims and Christians worship the same god. The Christian struggles with that idea but ultimately accepts it.
And in Maryland, La Plata High School was also accused of favoring Islam by forcing children to profess the Muslim statement of faith and requiring them to memorize the Five Pillars of Islam, according to a 2015 federal lawsuit filed by the Thomas Moore Law Center. In this case, John and Melissa Wood accused the school of Islamic indoctrination and propaganda, and when Mr. Wood complained, the school banned him from campus! 
There have also been similar stories in California, New York, Texas, New Jersey, Massachusetts, Tennessee, Virginia, and others – all receiving extremely little attention in the politically-correct, progressive media.
Discriminating against those holding to the Christian worldview while promoting other religious views is unconstitutional. So where is the Freedom from Religion foundation when it comes to Islam being taught in government schools?
There should be no confusion over the stark contrasts between the worldviews of Christianity and Islam. It is misguided to focus on a few common teachings without acknowledging major doctrines that are diametrically opposed to one another.
Open Doors reports on persecution worldwide  and the following are monthly averages: 255 Christians are killed, 104 Christians are abducted, and 180 Christian women are raped, sexually harassed or forced into marriage.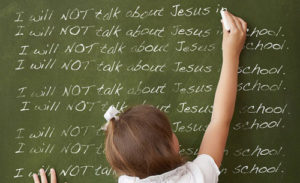 I am not suggesting the Christian faith should be the only one allowed in public schools – although that is what took place for over a hundred years in America when our country was very different morally and spiritually. I am asking for fairness and justice.
If schools discuss one religion, then others should be allowed as well.
But the left won't go for that because they believe in the total separation of Christianity and state. Keep Jesus out, and anything else goes. Maybe they know if the Bible is allowed back in schools, more children will end up believing it. Why? Because it's true.
*Originally published at Freedom Project Media
Evidence for the Truth of the Resurrection – video and article
What is Islam and What do Muslims believe? – GotQuestions?
'Access Islam' forced on Grade 5-12 students
Uncommon Ground: Christianity vs Islam
America's Schools Exalting Islam – Frontpage Mag