Five recent news stories indicate a concerning trend in America; a shift from disagreeing with Christians to discriminating against them. Sadly, these attacks are slowly becoming accepted.
With a campaign of redefined words such as 'intolerance,' it often starts with mild persecution.
New Yorker magazine recently suggested Chick-fil-A, the third largest restaurant franchise in America, doesn't belong in their blue state because of the alleged "infiltration" of what one writer called "pervasive Christian traditionalism."
That's right, a corporation built on family values, hard work, and integrity, and whose stated mission is to "glorify God," who also donates thousands of pounds of food to the homeless is somehow a threat to the liberal stronghold of New York.
Down south, a Miami Dolphins cheerleader went public because she was discriminated against for not only being a Christian, but apparently a virgin as well. As a cheerleader, Kristin Ann Ware was also criticized for posting a Bible verse on social media with a photo of her baptism.
Over in Minnesota, a school bus driver and pastor was recently removed from his route for praying with students on the way to school, even though students would volunteer to lead prayer. 
Next, you probably heard liberal Democrat and anti-Christian Senator, Corey Booker, actually believes that those who have a biblical worldview are unfit to serve our country.
At a confirmation hearing for Secretary of State, Booker grilled Mike Pompeo, but it wasn't about foreign policy or any of the most pressing national concerns. He demanded to know Pompeo's stance on homosexual sex and asked, "Do you believe gay sex is a perversion?" Can you imagine a Muslim, Jew, or anyone else being asked this kind of question?
Ben Shapiro of the Daily Wire writes:
Here's the real issue: when your religion is government, and government is god, you cannot tolerate any other God before it — and you assume that all those who believe in God wish to mobilize government in order to impose God's will.
Booker's line of questioning was flat-out unconstitutional, but did you hear the media mention it – if they reported on it at all? The Constitution clearly forbids religious tests for public office. Period.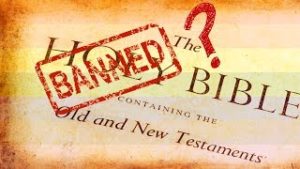 But here's the most disturbing story: a bill was passed in California that could ban counseling services and the sale of books expressing orthodox Christian views about sexual immorality. This pro-homosexual bill would ban the Bible! (Images of Nazi's burning books in the 1930s may come to mind.)
Assembly Bill 2943 would make it unlawful to engage in transactions offering to pursue "sexual orientation change efforts with an individual."
National Review's David French says California state law would lock in a sexual-revolution orthodoxy that hurts the very people they seek to protect. The bill defines "change efforts" as "any practices that seek to change an individual's sexual orientation. This includes efforts to change behaviors or gender expressions…"
French adds, "…no state legislature should be permitted to ban a "good" (such as a book) or a "service" (like counseling) that makes these arguments and provides them to willing, consenting consumers."
This would not only outlaw certain speech, but California seems willing to ignore the constitutional guarantee of the free exercise of and enjoyment of religion without discrimination.
The bill now goes to the Senate for consideration, and if they pass it, radical CA Governor Jerry Brown is expected to sign it. And if the bill becomes law, we know from past history what happens in California doesn't stay in California.
In recent years, Christians believing in the Bible and natural marriage have been suspended or fired from their jobs, sued and taken to court, slandered, some have lost businesses, savings, and have been viciously attacked in the press and on social media.
How can we respond? Stay the course. Don't fret and don't be surprised by any of this. Jesus told His followers they would be hated because of Him, and we cannot compare what's happening in America with what our brothers and sisters in Christ endure in hostile nations. Press on, my friend; God is faithful.
*Originally published at Freedom Project Media.